Que onda loco? ¿Que pasion? Whassa matter? Why doncho you ever return phone calls, ese?
My compadre and comadre are right. You ARE a Flake!
My ruca was a little upset that you never called back so that we could rent that little casita up in Maine. My ruca would really like to visit up there. You see, my vieja and her little traviesos get tired of all the beauty around el Estado Dorado, the Golden State. It would be nice to visit around this great country of ours, and what could be more different than my barrio here on East side than York County, Maine?
Why didn't you ever call back, chavalo?
Is it because of the way I look?
Because I can tell you, 'mano, I have less tats than my oldest, and she's a chavala. I got my first gang tat when I was initiated at 7. No me digas que tienes miedo? Don't tell me you're afraid, loco? I'm a
harmless little fuzzball
, I would never hurt a fly, unless that fly never called me or my friends back de una casita that would be just right for them.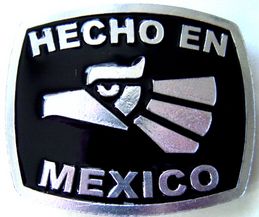 Is it because you think that I was born outside of the country? No es verdad,
joto
! My family has been what is presently the American state of Califas since 1820. When did they come over you say? The first of my ancianos came on over in the boat shortly after Cortes, que Dios lo bediga, in 1529.
Is it because you think I can't pay the rent? I would like to transfer within my company, and my jefes think i would be a good match for our TV station in Portland. Mira, here's a retrato of me at work.
I have even won an Emmy, buey!
Do you think we are going to be too loud for the neighbours? Neta, Holmes! We are a quiet family with quiet friends. Just ask my next door neighbours! We host little quiet parties, like the one in the picture right below....

This was my daughter's Quincenera, a small intimate gathering, as you can see. We put on chanclas, and danced for a couple of days. It was a toda madre, I tell you.
Mira, güero. I am not just some pachuco who came off the street. I won't leave the baikas from the kids out where the people can see them. no somos chafa, caborn. We are high class quality people. I will even leave my fuscas (guns) in Califas. Plus I am a Miclo (light-skinned Mexican-American), so I know I will fit right in in southern Maine, even though I am a little panzón (fat). I look pretty good, in fact!

¿ My carrucha? I know it will fit right in in the state of Maine! I will put it in the garage ALL the time!
Come on, get yourself some canicas, and rent to me or my friends.
¿Me entiendes, Méndez?
Ay te Wacho (Be seeing you!)!